LASER HAIR REMOVAL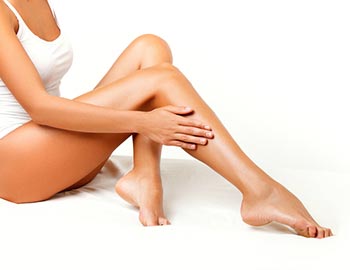 Our MedSpa in Willowbrook, IL has laser hair removal for everyone and every condition. Our facility uses a top-of-the-line laser machine called the GentleMax Pro. Trust GentleMax Pro for laser hair removal, as well as sun and age spots and facial and leg veins- efficiently and effectively on all skin types.
GentleMax Pro uses laser technology to deliver an intense but gentle burst of energy onto targeted areas of the skin, delivering a controlled amount of therapeutic heat to the targeted area safely and effectively.
---
HOW DOES LASER HAIR REMOVAL WORK?
The key to stopping hair from growing is the hair follicle. Destroy or disable the hair follicle and it will no longer produce hair. That's what laser hair removal does. At our Elborno Center MedSpa, we set our GentleMax Pro laser to match the wavelength of the melanin in your hair. Melanin is what gives our hair (and our skin) and it's color. We then direct short pulses of laser energy onto the treatment area. The melanin absorbs the laser light energy and it converts to heat. This heat travels down the hair shaft into the hair follicle, damaging or destroying the follicle and preventing future hair growth.
---
WHAT CAN I EXPECT DURING LASER TREATMENT?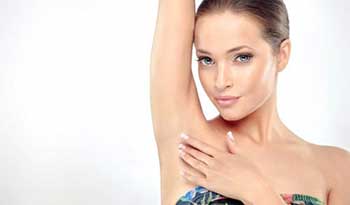 A small handpiece is used to deliver each laser pulse. A treatment could take as little as a few minutes to as long as an hour, depending on the treatment area and the condition being treated such as laser hair removal. Some patients may feel a slight discomfort with each laser pulse, sometimes described as the snapping of a rubber band on the skin. This discomfort resolves quickly and is minimized by the patented Dynamic Cooling Device (DCD) or air cooling. For some patients, a topical anesthetic may be used before treatment. This will be discussed before treatment.
---
HOW MANY TREATMENT SESSIONS WILL I NEED?
The number of sessions depends on the treatment you require and the condition of your skin. For laser hair removal, multiple treatments are required. Other conditions may clear up in only one treatment, but many factors impact the efficacy of treatments, including the severity of the condition being treated.
---
WHY DOES IT TAKE SO MANY SESSIONS?
Humans have around five million hairs on our bodies (men have a few hundred thousand more, women a few hundred thousand less). Each of these hairs operates independently. Each hair also goes through three phases of their growth cycle — anagen (growth), catagen (transitional), and telogen (resting). Unfortunately, laser energy is only effective on hair in the anagen phase because these hairs are still actively anchored into the hair follicle. Hair that is in either the transition or resting phases is in the process of being shed, so energy can't travel down the hair shaft into the follicle. When you think of the number of unwanted hairs you're seeking to target, catching each unwanted hair in the growth phase isn't easy. Second, damaged follicles can rebuild sometimes with hormonal changes, and partially damaged follicles can heal and begin to grow hair again. So, how much hair can you permanently get rid of? It's from 85 to 90 percent in the treatment areas. That's why the FDA approved lasers for what it calls "laser hair reduction."
---
AM I A GOOD CANDIDATE FOR LASER HAIR REDUCTION?
The best candidates for laser hair reduction have a sharp contrast between the color of their unwanted hair and their skin tone. This makes it easy for the laser wavelength to be set to the hair color and to distinguish it from the skin pigment. People with light blond or gray hair have less melanin in their hair, so it is more difficult to target it with laser energy. Plus, the laser pulses have to be shorter to protect the skin.
---
HOW DO I PREPARE FOR TREATMENT?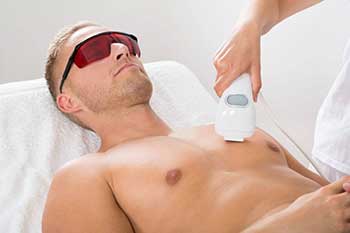 Laser hair removal patients should avoid plucking, electrolysis, or waxing for six weeks before treatment. If you have a history of herpes simplex virus, prophylactic antiviral therapy may be prescribed. The skin should be clean-shaven and thoroughly cleansed, removing any makeup, creams, oils, topical anesthetics, or self-tanning products before laser treatment. Do not expose the intended treatment area to sunlight or tanning booth light before or immediately after treatment. Apply sunblock (SPF 30 or above) before treatment.
---
WHAT CAN I EXPECT AFTER TREATMENT?
A cool compress or gel pack may be applied for comfort following your treatment. Any redness or swelling should resolve within a few hours. Prevent sun exposure by applying sunblock SPF 30 or above. Permanent side effects are rare. This will be further discussed during the consultation or after treatment.
---
HOW MUCH DOES LASER HAIR REMOVAL COST IN WILLOWBROOK, ILLINOIS?
SMALL AREA PRICING
ONE area of choice. 6 treatments. (Starting at $550.00)
Chin
Jaw line
Upper lip
Toes
MEDIUM AREA PRICING
ONE area of choice. 6 treatments. (Starting at $850.00 - Prices may vary upon consultation.)
Full face
Chest
Neck (all around)
Under arms
Bikini line
LARGE AREA PRICING
ONE area of choice. 6 treatments. (Starting at $1500.00 - Prices may vary upon consultation.)
Full legs
Full arms
Full back
Stomach
Brazilian
COST OF FULL BODY HAIR REMOVAL
Starting at $2,800 for 6 sessions. Prices may vary upon consultation. Customized treatments are possible upon request.
---
REQUEST YOUR APPOINTMENT TODAY!
To request your appointment, please call (630) 934-2332 or contact us online today!
---
OUR LOCATION
Elborno Center
6747 Kingery Hwy
Willowbrook, IL 60527
Phone: (630) 934-2332
Serving patients in Willowbrook, Burr Ridge, Hinsdale, Westmont, Darien, Clarendon Hills and the surrounding DuPage County, Illinois communities.