The Dr. Elborno Center-BellaSense Med Spa has a laser for everyone and every condition. Our facility uses the a top of the line laser machine called the GentleMax Pro. Trust GentleMax Pro to remove unwanted hair, as well as sun and age spots and facial and leg veins- efficiently and effectively on all skin types. GentleMax Pro uses laser technology to deliver an intense but gentle burst of energy onto targeted areas of the skin, delivering a controlled amount of therapeutic heat to the targeted area safely and effectively.
What can I expect during laser treatment?
A small hand piece is used to deliver each laser pulse. A treatment could take as little as a few minutes to as long as an hour, depending on the treatment area and the condition being treated. Some patients may feel a slight discomfort with each laser pulse, sometimes described like the snapping of a rubber band on the skin. This discomfort resolves quickly and is minimized by the patented Dynamic Cooling Device (DCD) or air cooling. For some patients, a topical anesthetic may be used prior to treatment. This will be discussed prior to treatment.
How many treatment sessions will I need?
The number of sessions depends on the treatment you require and the condition of your skin. For hair removal, multiple treatments are required. Other conditions may clear up in only one treatment, but many factors impact the efficacy of treatments, including the severity of the condition being treated.
How do I prepare for treatment?
Hair removal patients should avoid plucking, electrolysis or waxing for six weeks prior to treatment. If you have a history of herpes simlpex virus, prophylactic antiviral therapy may be prescribed. Skin should be clean shaven and thoroughly cleansed, removing any makeup, creams, oils, topical anesthetics or self-tanning products before laser treatment. Do not expose the intended treatment area to sunlight or tanning booth light prior to or immediately after treatment. Apply sunblock (SPF 30 or above) before treatment.
What can I expect after treatment?
A cool compress or gel pack may be applied for comfort following you treatment. Any redness or swelling should resolve within a few hours. Prevent sun exposure by applying sunblock SPF 30 or above. Permanent side effects are rare. This will be further discussed during consultation or after treatment.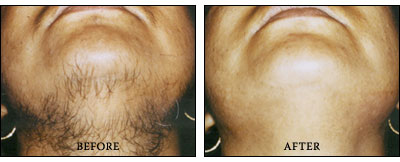 Laser Hair Removal Promotions
SMALL AREA
ONE area of choice
- 6 treatments
- $490.00
Chin
Jaw line
Upper lip
Toes
MEDIUM AREA
ONE area of choice
- 6 treatments
- $700.00
Full face
Chest
Neck (all around)
Under arms
Bikini line
LARGE AREA
ONE area of choice
- 6 treatments
- $1200.00
Full legs
Full arms
Full back
Stomach
Brazilian
FULL BODY HAIR REMOVAL - TREATMENTS- $2,300 for 6 sessions.
Customized treatments are possible upon request. Prices do vary.
SKIN TIGHTENING
An outstanding facial rejuvenation option that produces dramatic results, laser skin tightening effectively reduces the appearance of wrinkles and loose skin for a smoother and more youthful appearance. Laser skin tightening is a minimally invasive, non-surgical process that uses an infrared light source (a laser) to tighten skin by heating the collagen under the skin's surface, causing the skin to contract (tighten). Facial skin tightening is noticeable immediately after the treatment, and there is no downtime, making this an increasingly popular procedure. Additional skin tightening occurs over the next few months, but optimal results usually require two or three treatments about a month apart. Laser skin tightening effectively reduces the appearance of wrinkles and loose skin for a smoother and more youthful appearance. Patients experience firmer skin with fewer fine lines and wrinkles. One of the greatest benefits of laser skin tightening is the minimal amount of risk associated with the procedure. The tightening of the skin occurs immediately, and results continue to improve over the next several weeks. Patients may experience temporary reddening of the skin, a very slight chance of scarring, and the possibility of brief lightening or darkening of the skin in treated areas.