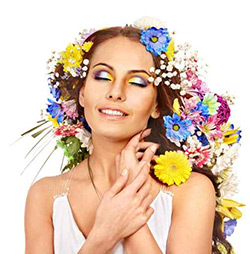 Rejuvenate Your Skin
Many people are not happy with the way their skin looks. Everyone suffers with one type of problem such as acne, wrinkles, age/sun spots, scarring and discoloration.
Acne
Acne is a very common condition that usually begins during adolescence and subsides by the late twenties. Sometimes, however, acne may also begin later in life and last well into middle age. Also occasionally newborns can develop acne, although it usually passes quickly. A variety of advanced treatments are available at Bellasense Med Spa to prevent its development and spread of acne. Our Center offers a full skin analysis and based on that we will choose your treatment plan. Prevention or early treatment of acne tends to be much more effective than trying to rid the skin of pits and scars later .Our number one treatment for acne is the myBody Facial Peel.
Wrinkles
Wrinkles are natural part of the aging process. They occur most frequently in areas exposed to the sun, such as the face, neck, back of the hands and forearms. Over time, skin gets thinner, dry and less elastic. Ultimately, this causes wrinkles, either fine lines or deep furrows. In addition to sun exposure, premature aging of the skin is associated with smoking, heredity and skin type(higher incidence among people with fair hair, blue-eyes and light skin). Our Center offers different methods to erase the appearance of wrinkles and to prevent it from getting worse. Fillers are the number one choice to treat wrinkles followed by treatments of skin tightening.
Dark Spots
Dark spots on the skin, also called hyper pigmentation, is a common skin problem that is mainly caused by sun damage, post acne, and a variety of other conditions/ agents that can cause dark spots to develop on the skin. One of the most under recognized causes of dark spots is post inflammatory hyper pigmentation which are caused by some type of trauma to the skin. At the Dr. Elborno Center/ Bellasense Med Spa, there are many different treatment types that help get rid of dark spots and help brighten the skin.
Introducing myBody Facial Peels!
myBody Facial Peel
The myBody Facial Peel is the first ever peel that uses topical probiotic bioactives. Topical probiotics are non-living molecules extracted from specific strains of body- friendly bacteria and are proven to stimulate skin immunity. Safe, biomimetic and symbiotic with the skin, this class of topical probiotics is known in the scientific community as Probiotic Derived Bioactives (PDB). This youth boost peel is different than other chemical acid peels. This peel has no excessive peeling, works from the inside out, there is no down time, and is absolutely painless. Many patients see instant results such as smoothing, brightening and tightening and notice long term benefits like retexturizing and wrinkle relaxing.
What can you expect from the myBody Facial Peel?
Enhanced oxygen uptake imparts a healthy glow
Increased skin immunity protects skin from external insults
Antioxidant activity fights free radical damage
Reduction in the appearance of photo damage
Reduction in the appearance of inflammation and redness
Reduction in the appearance of uneven pigmentation
NEW PRODUCTS JUST IN
myBody has came out with a break through product called the myHELPER acne spot treatment 5% benzoyl peroxide pen. For on-the-go clinical strength,oil free spot treatment helps quickly eliminate the appearance of acne breakouts and enhances the healing process.
Diamond Illuminating Collagen Mask Facial
CALL TODAY AND ASK ABOUT OUR WIDE LINE OF myBODY PRODUCTS.
Treatments:
Microdermabrasion (skin rejuvenation)
Hydra Jet Facial (skin rejuvenation)
Fillers
Botulinum toxin (botox)
Laser ( hyper pigmentation, skin tightening)
Thermi RF Smooth (skin tightening)
Natural Organic Vitamins (skin brightening, toning)
24K Gold Mask (skin brightening, toning)
myBody Facial Peels (acne, fine lines, redness)